Artificial Intelligence brings in the most impactful innovations of all time. Unraveling the most authentic AI technology advancements has been the most sought-after revelation. Talking to inanimate objects is not a thing of the past anymore.
As per the latest available data, ChatGPT currently has over 100 million users, and the website currently generates 1.8 billion visitors per month. According to an analysis by Swiss Bank UBS, ChatGPT is the fastest-growing app of all time.
AI Chatbot is a piece of software that simulates conversations with people using natural language processing and machine learning to provide a human-like experience. These can easily speed-up processes fiercely such as content writing, checking bank statements, or checking bank statements.
Generative AI chatbots offer human-like help without the need to forward your site's visitor to the representative until a complex issue comes up. these are good for understanding user intent and learning over time to improve their answers.
Here are some of the most popular chatbots that are revolutionizing the AI landscape over the years to follow across the globe: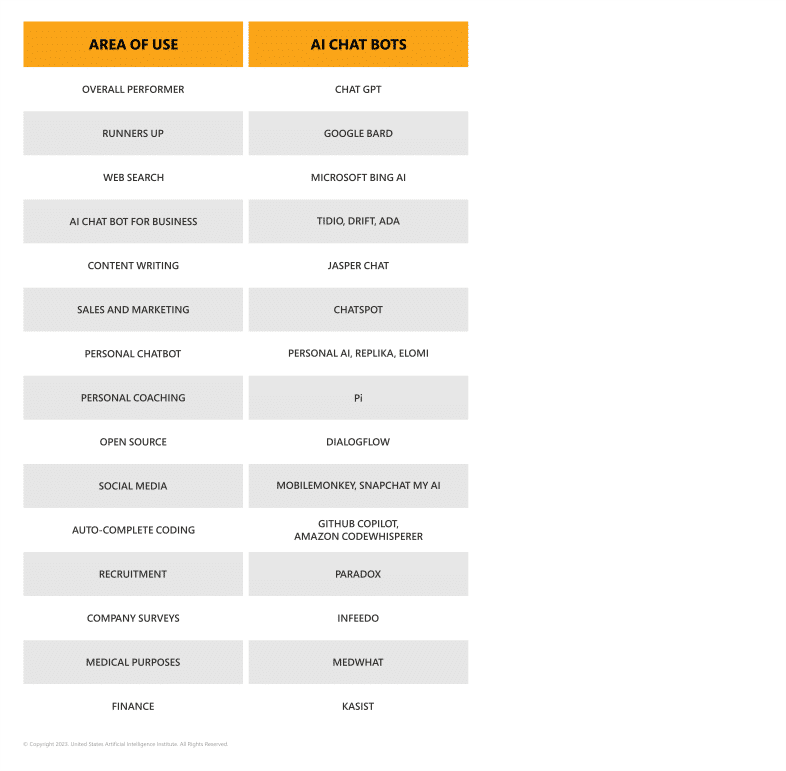 Looking at the current advancements in AI technology, let us explore the TOP 10 in detail: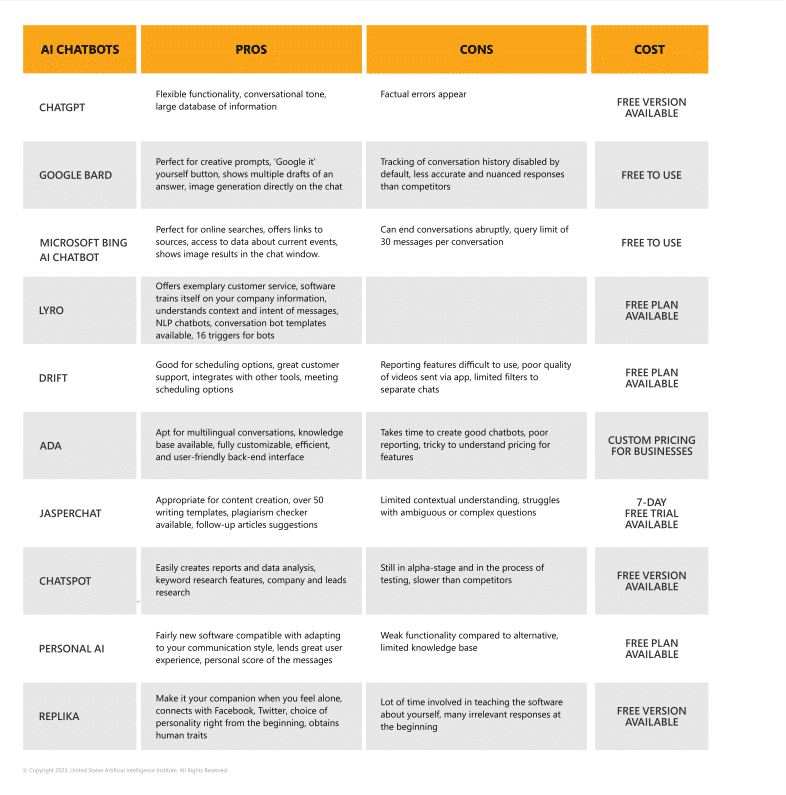 Are you still in the planning phase and feel undecided about which chatbot your business should invest in? Let us look at the core characteristics of an exemplary chatbot to decide on:
Emotionally intelligent
Secure
Customizable
Analytical
Multilingual
NLP Enabled
Chatbot conversation builder
Customization settings
Conversation preview
Artificial intelligence
Platform Independent Integrations
No code Platform
Integrations with other support tools
Handover of chatbot conversation to operators
Reports and analytics
Omnichannel platform
Data privacy and security
Robust Chatbot API
Sentiment Analysis
Marketing Capabilities
On understanding the different features that go into building and selecting the most suited chatbot for your business; it would be great to understand the benefits of choosing one:
Reduces the scope of answering standard questions
Reduces customer support fees by 30%
Round-the-clock availability
Faster resolution time
Better Return on Investment
Increased website conversion rate
More meaningful leads
Cost saving
better customer support
Generates qualified leads for the business
Builds a customized experience for each customer
Increases sales avenues
As Gartner puts it, a chatbot is a domain-specific conversational interface that uses an app, messaging platform, social network, or chat solution for its conversations. AI-powered chatbots can be text-or-voice-based or a combination of both. Chatbots do differ in sophistication, from simple, decision-tree-based marketing stunts to implementations built on feature-rich platforms.
Professionals with credible Artificial Intelligence certification programs are deemed necessary as they are pivotal in enhancing the profits realm for the recruiters' manifold.
Artificial Intelligence professionals coupled with the most rewarding chatbot tools that are explored in the blog content amplify your business. ChatGPT has gained mass popularity and created a buzz with such breakthrough enhancements for businesses and corporates along the way. Make the best move with the ever-evolving chatbot tools today!